– A snapshot of the path to human-centric approach to personal data
In less than 10 years, the concept of MyData, a human-centric approach to personal data, has gone from a research project and non-profit's side project into a cornerstone of data strategies policies in Europe and globally. It has become an essential building block of a fair data economy that respects the rights of individuals while helping companies create innovative services based on personal data.      
The State of MyData 2021 provides a snapshot of how we are moving forward on the journey towards a fair, sustainable, and prosperous digital society for all. 
Here are five key takeaways – described in detail in the State of MyData 2021

1. MyData is highly relevant to the "big conversations" of our time.
MyData, or personal data for that matter, is not a fringe topic. It is highly relevant and highly related to the big conversations that humanity is engaged in, such as climate change, growing economic inequality, and the rise of artificial intelligence. In fact, there are hardly any big conversations NOT relevant to MyData. 
2. Cities are becoming pioneers of MyData.
Cities hold enormous amounts of personal data and are ideally positioned to make a large impact as they develop proactive data-based services based on MyData principles. Some forward-thinking cities pioneering human-centric approaches include Oulu and Helsinki in Finland; Lyon, La Rochelle, and Nantes in France, Zug in Switzerland, Ghent, and Antwerp in Belgium.

3. Design is fundamental to the success of the MyData paradigm.
The report reminds us that success in the digital space requires good design, and that good design should be enjoyable, functional and ethical. Among several things within combining MyData design thinking and human-centered design (HCD), we have developed MyData Design Toolkit to help communities to innovative new services based on personal data and mutual trust.
4. The journey of interoperability is all about the dialogue between governance and standards.
The journey of interoperability is a metaphor developed in the context of the highly active MyData operators work. The State of MyData 2021 illustrates the emerging and ongoing dialogue between different approaches to interoperability through the efforts in governance on one hand and standards on the other.
5. What's missing is as important as what's there.
The 'Global' in our name commits us to seek the diversity of viewpoints to truly tackle global challenges. The 'human' in 'human-centric' does not discriminate: MyData is equally for all people. Yet, the discussions on indigenous data and voices from the Global South are still faint, we'd love to hear them louder. 
[gdlr_row]
[gdlr_button href="https://mydata.org/state-of-mydata-2021/" target="_self" size="medium" background="#16c1f3″ color="#ffffff"]Read State of MyData 2021 here[/gdlr_button]
[/gdlr_row]
Know someone who should read it too? Let them know by sharing it on social media and to people in your networks!
[gdlr_styled_box content_color="#000000″ background_color="#f3f3f3″ corner_color="#f3f3f3″]
Hear from key experts from around the world in May 31, 2021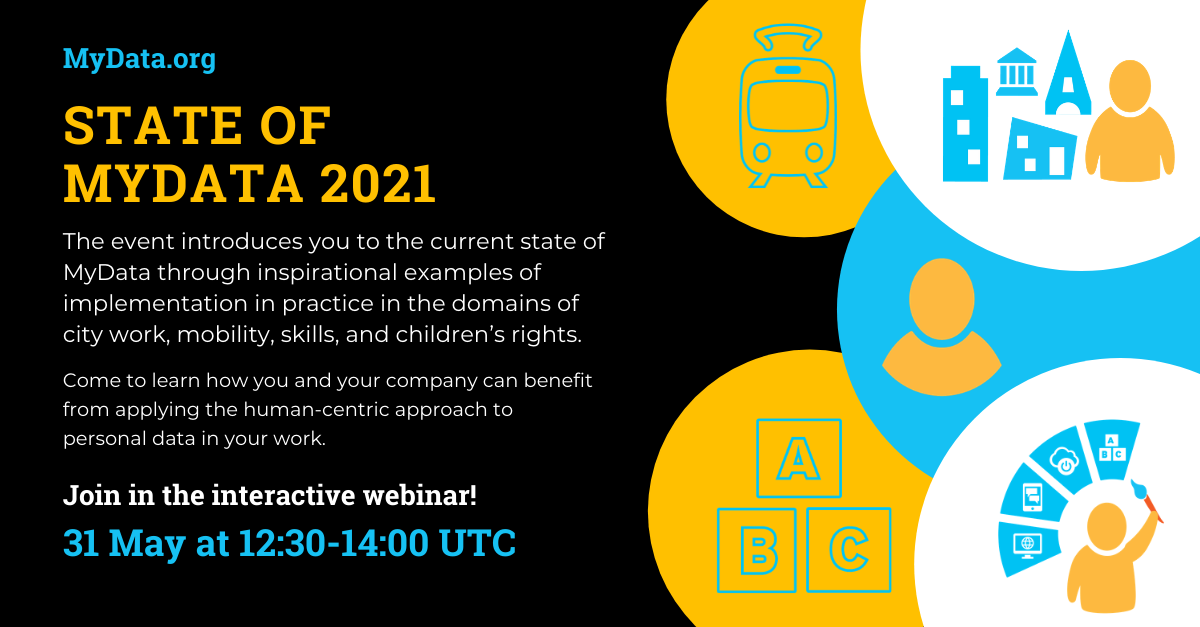 The event introduces you to the current state of MyData through inspirational examples of implementation in practice in the domains of city work, mobility, skills, and children's rights.
In addition to the authors of the publication, you will hear from:
Mikko Rusama, Chief Digital Officer, Helsinki

Jasmine Birch, Chief of Policy, UNICEF
Kristina Yasuda, Identity Standards Architect, Microsoft
Join in the interactive webinar to see how you and your company can benefit from applying the human-centric approach to personal data in your work.

Block time in your calendar here.
[gdlr_button href="https://mydata.org/state-of-mydata-2021/" target="_self" size="medium" background="#16c1f3″ color="#ffffff"]Register here[/gdlr_button]
[/gdlr_styled_box]
Join on our shared journey to make MyData a reality 
While the MyData community has come far since the early days. It is all based on a firm belief that realising the vision for a fair, sustainable and prosperous digital society can only happen through joint efforts.
There's tremendous momentum for putting MyData concept into practice. We're seeing increasing interest from large organisations both from the private and public sector piloting human-centric approaches to personal data in their domains. There's a lot of passion and energy to "make it happen", while the MyData community invests greatly into ensuring it is also "making it right",-
Sille Sepp, co-author of State of MyData 2021, explains.
Book a time with us to discuss how your organisation can benefit from adopting the MyData approach and by becoming a MyData Global member. Join with the 100+ organisations from over 50 countries.
MyData Global's mission is to empower individuals with the right to self-determination regarding their personal data. You and your company can become part of MyData Global at any time. For the benefits of membership and application go to: mydata.org/join.

MyData Global's work is mostly financed by membership fees and revenue from the conferences, and each member's contribution is crucial for us to succeed! 
[gdlr_row]
[gdlr_button href="https://mydata.org/join" target="_self" size="medium" background="#16c1f3″ color="#ffffff"]BECOME A MEMBER[/gdlr_button]
[/gdlr_row]